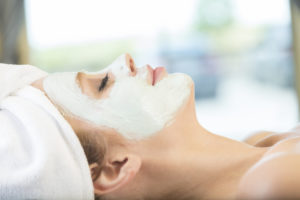 Whether you need a quick pick me up or an in-depth facial, skincare treatments at Urban Oasis are completely tailored to the needs of your unique skin. As our focus at Urban Oasis is relaxation, our facials can also include scalp, hand or foot moisturizing massage to rejuvenate and relax the body and the mind.*
60-Minute Signature Facial ~  ideal for all skin types
Our Signature Facial begins with face mapping – a detailed skin analysis of your unique skin allowing our Skin Therapists to customize a results-driven facial that is uniquely yours.  Using only professional grade skin care products, our Signature Facial continues with a purifying double cleanse and an exfoliation to slough off impurities and cellular debris, unveiling a more luminous you!  We steam the skin and perform extractions when necessary and finish with a soothing masque and hydrating moisturizer.
30-Minute Express Facial   ~ ideal for all skin types
Get your glow on-the-go with this refreshing and hydrating mini-facial.  Whether it is tired eyes or stubborn breakouts, this service quickly targets and addresses your top skin concerns.  Our Express Facial includes face mapping, double cleanse, steam, exfoliation, soothing masque and hydrating moisturizer.
30-Minute Soothing Face Massage**
This facial massage is the perfect complement to our body massage services.  It provides customized facial acupressure to address energy flow, skin tone and circulation.  This treatment includes a thorough cleanse and soothing moisturizer.
*For optimal results, Urban Oasis recommends facials every 4-6 weeks and a consistent at-home regimen.
**It is only available as a supplement to massage services. It is subject to availability and valid only on the day the massage service is rendered.
Waxing
Eyebrows – $30
Lip, chin, nose, cheeks – $15
Full Face – $75
Underarms – $30
Bikini – $50
Brazilian (female only) – $75
Shoulders – $25
Stomach – $25
Back – $75
Chest – $65
Half Arm/ Full Arm – $45/$65
Half Leg/Full Legs – $60/$90
Brazilian Package (15% off a series of six sessions) – $330
Wild Wax Pack (10% off your choice of waxing services) – $180